Find here some regular, work in progress information about the remastered version of our M.A.C.E. Space Shooter.
The game is currently on Steam Greenlight, thanks for voting:
http://steamcommunity.com/sharedfiles/filedetails/?id=727013167
---
Oct, 05, 2016 – Thomas Claus
The boss enemy of world 1 is now finished! It seems that i have all graphic stuff done. Next step is to build some levels.
---
Sep 29, 2016 – Thomas Claus
Just finished a big mothership enemy with some towers on its back. I am happy to have it now, next step is to animate it a little bit (moving arms and tail).
---
Sep 27, 2016 – Thomas Claus
A Gif Animation while painting the player ship:
---
Sep 27, 2016 – Thomas Claus
Finally i finished some new backgrounds for world 2. Now every world has some more variations. Next step is to fill the levels with this new graphics for all worlds!
---
Sep 23, 2016 – Thomas Claus
Game backgrounds for World 1
Some planets and pink "nebula":
---
Sep 21, 2016 – Thomas Claus
New player ship graphics
I have finished the new player graphics, a refurbished version of the player ship which looks now cleaner and fits better into the whole game as before. Also the game icon is now replaced with the new graphics.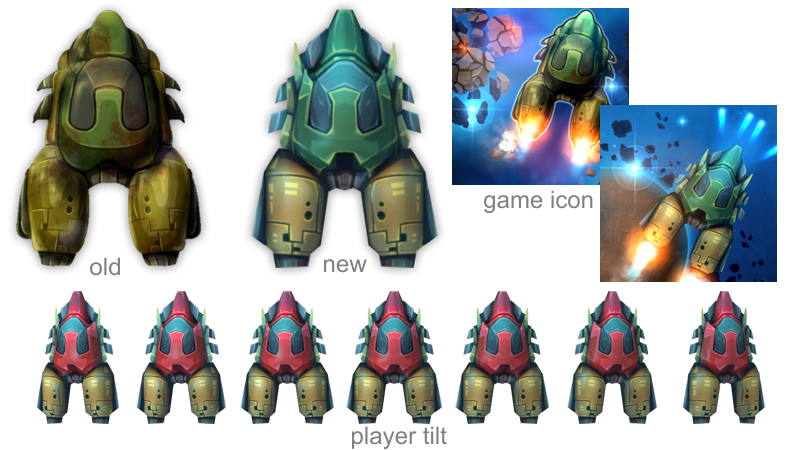 As M.A.C.E. is a 2D game with hand drawn images, it is hard to bring a player tilt into the game. But is is important for the overall quality of the game. In the old version of M.A.C.E. we only have 5 frames, now we have 7 frames for tilting the player. I used Blender and built a simple 3D model based on the 2D painted player graphics. I got a 3D surface which could be rendered with lights and shadows. See in the screenshot how it looks in Blender: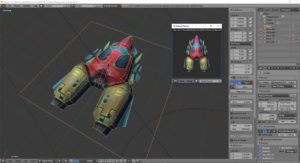 ---
Sep 21, 2016 – Frank Menzel
Building a new formation with an enemy. The path is "painted" in paint.net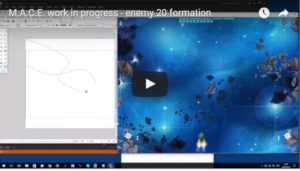 ---
Sep 20, 2016 – Frank Menzel
New enemy and progress bar

Yeah! Finally M.A.C.E. have got a level progress bar!
At level end, you also will get a full ship repair,
so i think it will help a lot, to see how long you must withstand the enemy breed.
New enemy "the accordion"  is now also done! 5 more to finish.
---
Sep 20, 2016 – Thomas Claus
New game Background for World 3
I am happy that i have finished some new background graphics for the 3th world of the game with some nice parallax layers. On the screenshot you also can se our new, optional "Retro Dots" screen filter which looks nice in my opinion. Currently i always play with this option turned on 😉